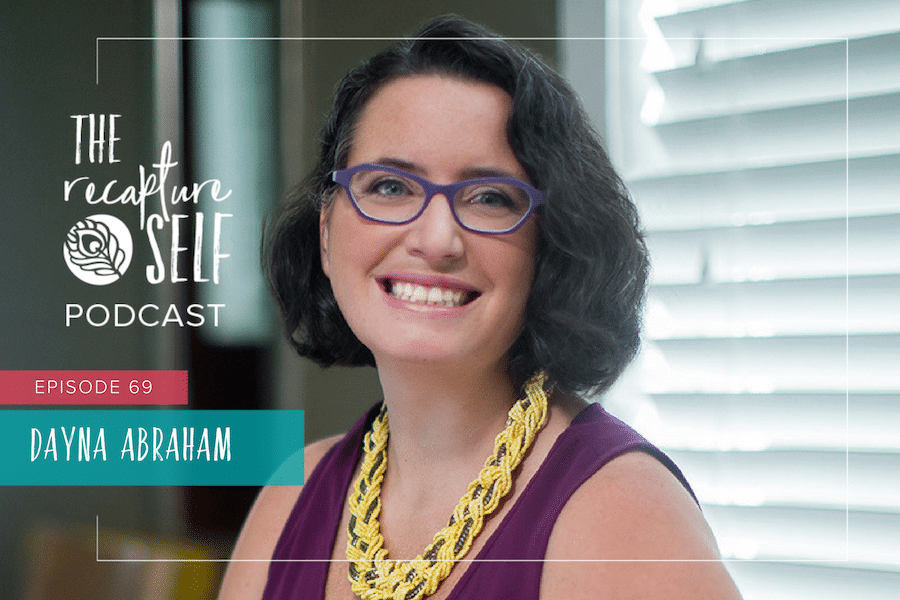 On the Recapture Self podcast it's our intention to give you a peek at the lives of moms and women who are balancing daily life, motherhood, and a commitment to their creative selves. These are women who are making time and space for their passion projects whether that be writing a book, designing a blog, photographing their family, or running a business.
PREPARE TO BE INSPIRED BY THEIR STORIES.
This week I'm chatting with Dayna Abraham.
Dayna Abraham, author of best-selling book The Superkids Activity Guide to Conquering Every Day and founder of the popular blog, Lemon Lime Adventures, helps parents and education professionals unlock the unique super powers in children so they can live a more peaceful life filled with clarity, connection and empowerment by providing them with a proven plan designed to Calm the Chaos™ of everyday life.
When she's not writing, you can find her drinking lots of coffee and being the best sidekick possible for her own three Superkids. Check out her other books, Sensory Processing 101 and STEAM Kids.
Enjoy parenting again– Free Workshop from Dayna
Dayna has taken her 15 years in the classroom, 13 years as a parent to a out-of-the-box child and created a resource that helps you calm the chaos in your home and create the family life you always dreamed you'd have.
If you've been pulling your hair out trying to get a handle on your child's behaviors…
like clinging to your leg and throw a fit,
refusing to go to school each day,
acting crazy and bouncing off the walls whenever someone walks through the door,
kicking, hitting, and biting you, or even other kids, during a meltdown,
Or when they do normal everyday kid things like backtalk, don't follow directions, or ignore your request to do what you ask. …
The Calm the Chaos Workshop will work for you.
The Calm the Chaos Workshop will help you change the way you see behavior, help you connect with your child in a brand new way, and get you on your way to completely change your family life…
Let me tell you…
this workshop changed my relationship with my kiddo.
If you're ready to take this journey with me..
=> click here and sign up for the FREE Calm the Chaos Workshop. 
The next workshop begins on March 7th and is only available for about a week, so click here to claim your spot today!
You can connect and learn more about Dayna in the following places:
Website – https://lemonlimeadventures.com/
Instagram – https://www.instagram.com/lemonlimeadventures/
Facebook – https://www.facebook.com/LemonLimeAdventures/
Calm the Chaos Workshop – https://calmthechaosworkshop.com/