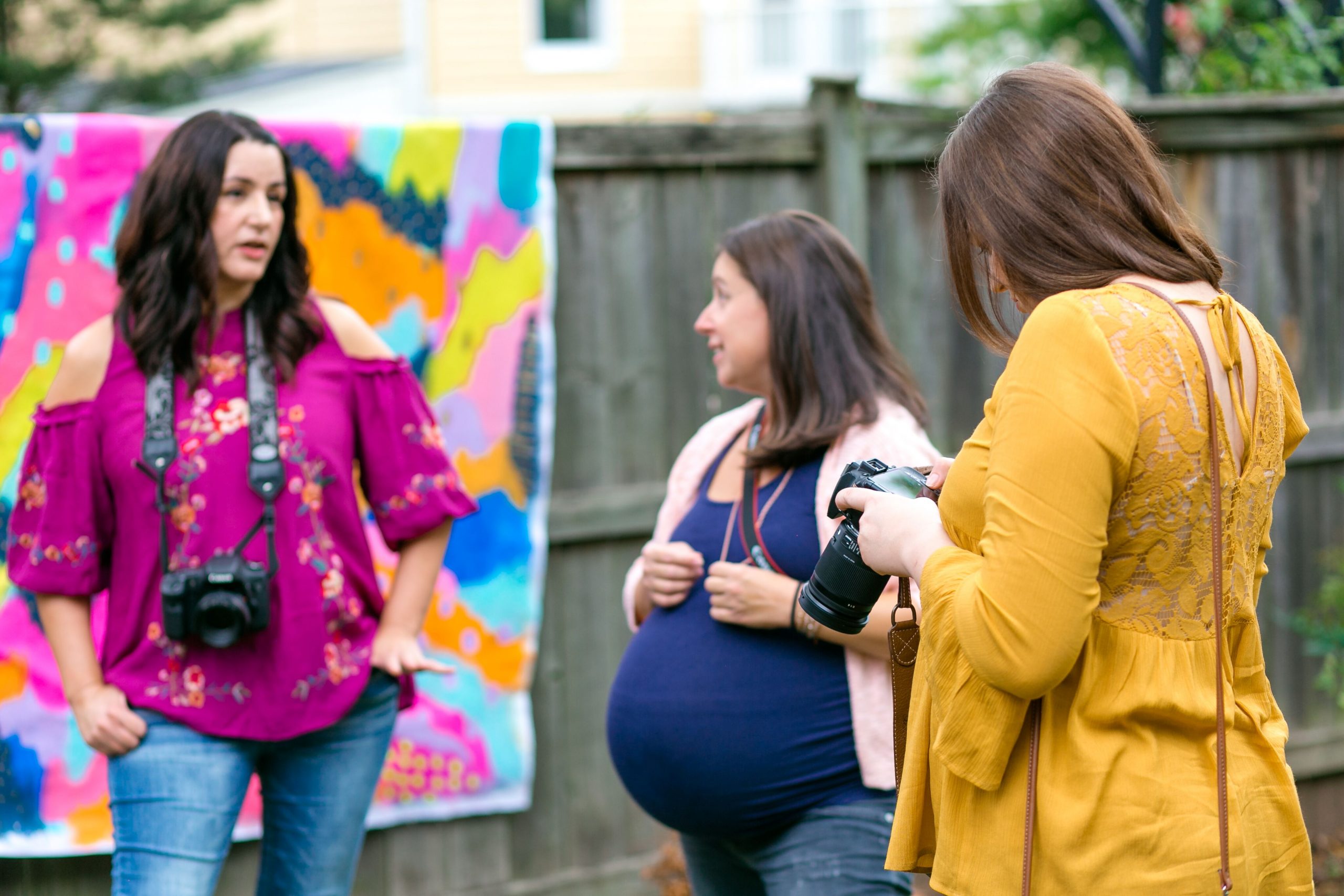 I never felt like I fit in with the "cool kids" in high school, and I hated how some online communities still feel like cliques where some people fit in, and other's don't. When I started Momtography, I knew I wanted a safe, welcoming space for EVERYONE. We welcome you exactly as you are and want you to find your people too.
I drove 6 hours round trip to do lunch with a truly special business owner, mentor, coach, and friend.
When I began my portrait business four years ago Kristen Kalp's BrandCamp Blog was the one that got me thinking outside the box in creating a business that truly lights me up.
During that time I've gotten to know the lady behind the blog quite a bit better and she's pushed me even further to get crystal clear on WHY I do what I do here and find who 'my people' are (that's YOU!). The ones that come back for more.  The ones that rally around me and inspire me to share the photography lessons that have taken me to new levels of self awareness and love for my family and my life.
But, this process of getting 'crystal clear'  is much easier said than done.
It actually wasn't until this drive up to do lunch with her that I finally had the epiphany of all epiphany's and truly discovered my clarity. My WHY.
You see, over the past year I've realized how much I've LOVED working with each and every single one of YOU!  In person. Online. One-on-one. Teaching you what I know about photography and it's transformational powers of healing and empowerment.  I love what I do here so much because I've realized that each one of you that I get to work with here in this community is actually quite a lot like me.
If I had to boil us down to just a few words we're all:
Warmhearted meaning-makers
If you're anything like me you:
Care unconditionally for the needs of others – friends, our families, strangers (oftentimes forgetting the needs of yourself in the process…)
Strive to add value to all your relationships (even the one with yourself) by creating and preserving what you perceive to be beautiful.
LOVE photography and realize that quality images are a vehicle to creating the memories you want to bottle up and keep forever.
Long for a hobby that feeds your soul while you're giving all you have to your family and kids. Something you can do together but also something that fills your cup.
Probably scrapbook, journal, or simply enjoy listening to the stories others. You have a creative heart even if you don't think of yourself as creative.
Realize that your own memory isn't getting any better (hello 30's!) and you want to create a beautiful visual legacy for your family that you can look back on, reminiscence over, and smile about weeks, months, and years later.
I used to think becoming a professional photographer and helping others by creating their memories for them was what I was destined to do. But, my teacher roots are firmly planted and I've realized only recently that my WHY is not to create the memories for you.
My purpose is to give you the tools, guidance, and inspiration to do it on your own and live a more fulfilled and meaningful life in the process.
I think I may have been radiating with happiness when I proudly shared my WHY with Kristen at lunch.
It took me awhile to get here, to this place of crystal clarity, but now that I've arrived it feels like home and I'm so so glad I've found you here to share your stories and make meaningful heartfelt memories with me.
Have you heard the news? We have a membership option that includes both digital photography skills learning and online community connections. Join the Club here. xo.